Computer Diagnostic & Repair
Is your computer acting up? Running Slow?
We'll get to the bottom of it. We'll run a full hardware and software diagnostic and find out exactly what is wrong with your computer. Slow performance and error message could be caused by a number of issues.
This service includes:
Testing computer hardware components
Troubleshooting operating system and software issues
Scanning for Viruses, Malware, Adware, and Rootkits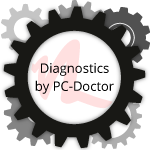 Need our help?
Stop by the shop or give us a call to schedule an appointment or FREE Pick Up!
Contact Us